e-learning

| JOINT ORGANIZATION
| | |
| --- | --- |
| ISCE – Higher Institute of Lisbon and Tagus Valley | |
| GWT - Global Women in Tourism | |
| Turismo de Portugal, IP | |
| SCIENTIFIC COORDINATION
Professor Doctor Nuno Abranja [ISCE]

Dr. Elisabete Mendes (Turismo de Portugal IP)
| EXECUTIVE COORDINATION
Dr. Leila Portela (GWT)

Dr. Teresinha Duarte (Turismo de Portugal IP)
| FRAMEWORK
ISCE, GWT and Turismo de Portugal, IP bring to you the new Postgraduate course in Gender Inequality in Tourism , the first postgraduate training that combines tourism with issues of gender (in)equality.
This postgraduate course aims to contribute to the integration of the gender and diversity perspective in the tourism sector, a fundamental approach in the contents of any academic discipline. This training will provide technical and practical tools for the professional exercise of tourism activities in defense of equality.
Tourism is an important driver of development that offers opportunities to advance towards inclusion and gender equality and diversity in the sector, collaborating with the fulfillment of the Sustainable Development Goals proposed by the United Nations for the 2030 Agenda. This socioeconomic activity has a feminized workforce that generates opportunities for women entrepreneurs, making it crucial to analyze existing inequalities in the sector and the impacts generated and go through a process of change that aims to incorporate the gender and diversity perspective in all aspects, considering the system tourism as a whole.
The postgraduate academic proposal provides the conceptual theoretical background , as well as a set of technical-practical tools for critical analysis, which facilitate the incorporation of the gender and diversity approach to eradicate inequalities in tourism.
| GOALS
With this course, instruments and up-to-date technical-scientific information will be provided, suitable for the areas of gender mainstreaming in tourism:
Promote a space for debate that encourages the construction of the field of gender and tourism studies;

Promote the consolidation of knowledge to achieve gender equality in the context of sustainable tourism development;

Provide theoretical learning appropriate to the demands of preparing and managing projects with a gender perspective;

Know and apply instruments for preparing, coordinating, managing and evaluating projects with a gender perspective;

Know the national and international regulatory framework regarding gender equality and its transversality in tourism.
| RECIPIENTS
Graduates in any area of training. Students and professionals with a need to acquire, deepen or update knowledge to achieve gender equality in the context of sustainable tourism development. Students of Technological Specialization Courses (CET). Portuguese citizens or foreign nationals. Professors teaching in national or foreign institutions that aim to promote gender equality. Operators and other Portuguese and foreign Tourism Agents operating in the Portuguese market. Undergraduate students and professionals with a specific interest in one of the training areas may attend separate modules in this postgraduate course.
| PROFESSIONAL OUTLETS
Public and associative organizations;

Hotels & Resorts;

Local authorities;

Regional Tourism Entities;

Regional Development Agencies;

Federations and/or Associations;

Tourist Entertainment Companies;

Companies linked to the Organization of Events of different natures;


Travel Agencies and Tour Operators;

Catering and Beverage Establishments;

Congress Centers;

Sports and health clubs;

Cruises;

Aviation;

Others.
| DURATION AND SCHEDULE
Duration :




Hours :

Monday and Tuesday [6:30pm-10:30pm]




Total Hours

275h in e-learning, through Zoom and eLearning Media platforms from Blackboard Open LMS






| CURRICULAR STRUCTURE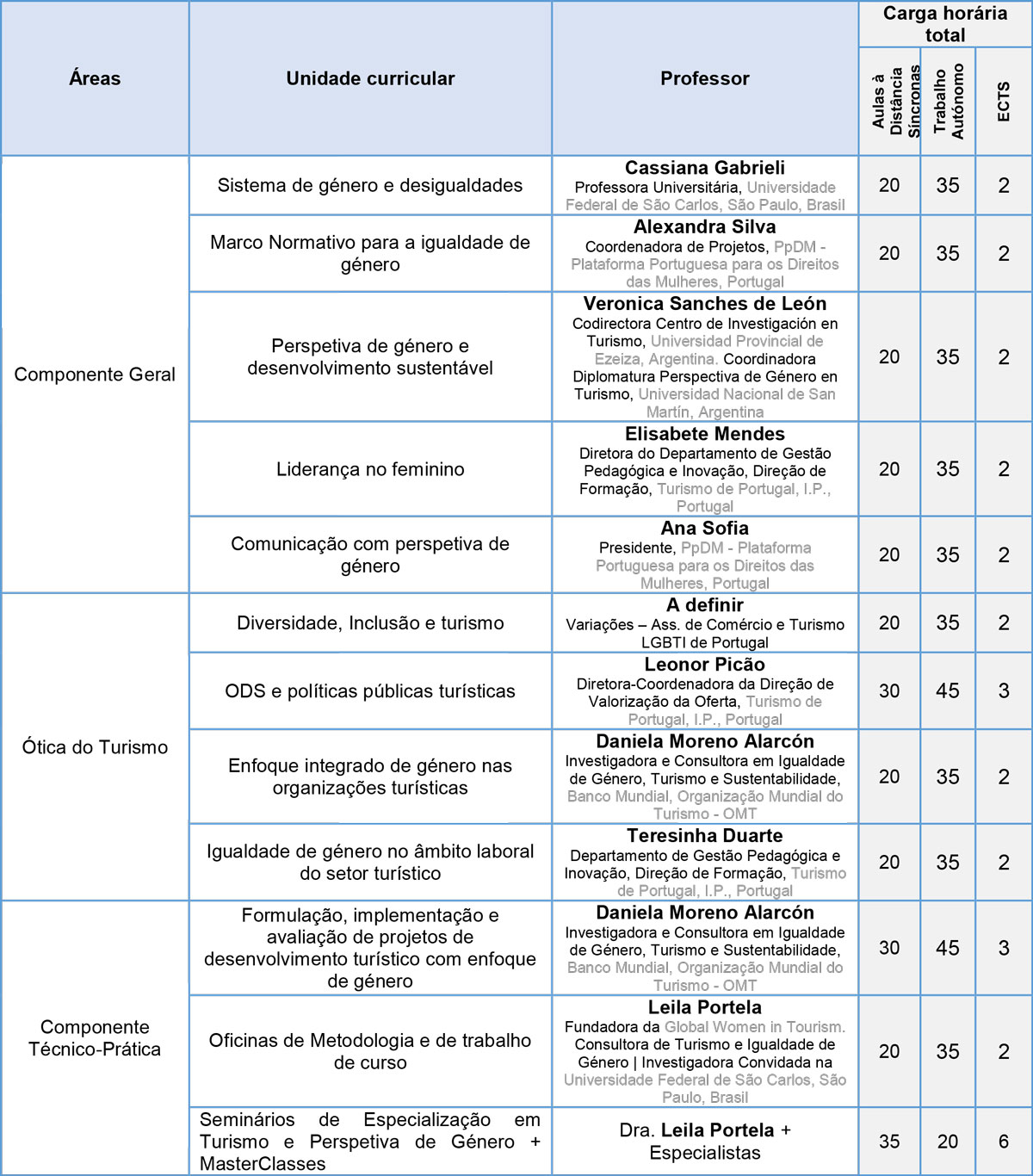 | CALENDAR
Applications : Until 10/10/2022
Posting of Results : 10/11/2022
Registration Period : From

13 to 14/10/2022

Opening Session: 10/24/2022
Classes Start : 10/25/2022
| GENERAL REGIME
Students who meet the following conditions can apply for access to postgraduate study cycles:
Holders of an academic, scientific or professional curriculum, which the ISCE Technical-Scientific Council considers to confer the capacity to carry out this cycle of studies.
The admission tests are carried out by the ISCE Department of Tourism and consist of:
The selection of candidates is made through curricular assessment and, if considered

relevant, by conducting an interview;


The following curricular elements are subject to consideration:


B. Academic/professional training in the area of specialization;



The candidate must submit the following documents to formalize their

candidacy for this course:
The. Application form, in the appropriate format, duly completed;

B. Certificate of academic qualifications;
The candidate must make payment and comply with the indicated schedule.
Prof. Doctor (PhD) Nuno Abranja

219 347 135
(call to national landline)